Esa M. Davis, M.D., M.P.H
Member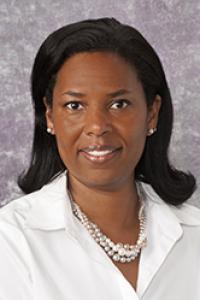 Esa M. Davis, M.D., M.P.H., FAAFP, is a professor of medicine and family and community medicine, the associate vice president of community health, and the senior associate dean of population health and community medicine at the University of Maryland School of Medicine. She is the lead health equity strategist for the University of Maryland Institute for Health Computing. Dr. Davis is also the director of the Transforming Bio-medical Research and Academic Faculty Through Opportunity, Training and Mentorship (TRANSFORM) program.

Dr. Davis's research areas of interest include understanding perinatal determinants of maternal obesity and associated adverse health outcomes and improving treatment strategies for tobacco use disorder in both hospitalized and presurgical patients. Her research has contributed new knowledge on the relationship of perinatal risk factors for maternal obesity and associated racial disparities, and related adverse health outcomes, such as gestational diabetes, hypertensive disorders of pregnancy, and peripartum cardiomyopathy. She has conducted comparative effectiveness trials on screening strategies for gestational diabetes and strategies to treat hospitalized patients who are tobacco users after discharge. Her research has been funded by the Agency for Healthcare Research and Quality (AHRQ), the National Institutes of Health, and the Robert Wood Johnson Foundation. She has served on national committees, including the National Academy of Medicine, the National Institute of Health Study Sections, and the American Heart Association.

Dr. Davis is a practicing family physician who maintains a primary care practice as well as teaches and mentors students and trainees across all levels and disciplines.

Dr. Davis earned her M.D. from the University of Medicine and Dentistry of New Jersey and completed a residency in family medicine at Overlook Hospital in New Jersey. She completed her postdoctoral research fellowship as a Robert Wood Johnson Clinical Scholar and a National Research Service Award Fellow at Johns Hopkins University School of Medicine. She earned her M.P.H. from the Johns Hopkins University Bloomberg School of Public Health. She was also a Robert Wood Johnson Harold Amos Scholar and an AHRQ K12 Comparative Effectiveness Research Scholar.

Dr. Davis joined the U.S. Preventive Services Task Force in January 2021.