The U.S. Preventive Services Task Force works to improve the health of people nationwide.
The U.S. Preventive Services Task Force (USPSTF or Task Force) makes evidence-based recommendations about preventive services such as screenings, behavioral counseling, and preventive medications. Task Force recommendations are created for primary care professionals by primary care professionals.
Why Our Work Matters
The Task Force helps people of all ages do what matters most: stay healthy and live well for years to come. Its evidence-based recommendations empower patients and their clinicians to make informed choices based on what works—and what doesn't—in preventive care. Patients can trust that the services recommended by the Task Force are beneficial to their overall health.
How We Work
The Task Force uses gold standard methods to systematically review the evidence on preventive services. The Task Force does not conduct original research studies; it reviews and assesses the best available evidence to make a conclusion about the benefits and harms of preventive services. Each step of the recommendation development process—from topic nomination to publication of the final recommendation—is transparent. We:
Focus only on preventive services offered in primary care settings or services that are referable by a primary care clinician and apply to patients without signs or symptoms of the condition.
Cover more than 80 preventive service topics for people across the lifespan.
Routinely update existing recommendations and develop new ones.
How We Develop Recommendations
The Task Force has a multi-step process for how we develop recommendations from topic nomination through the publication of a final recommendation.
Review topic nominations and select topics
Develop a draft research plan
Review public comments on the draft research plan and finalize the research plan
Review the evidence and develop a draft recommendation
Review public comments on the draft recommendation and then finalize the recommendation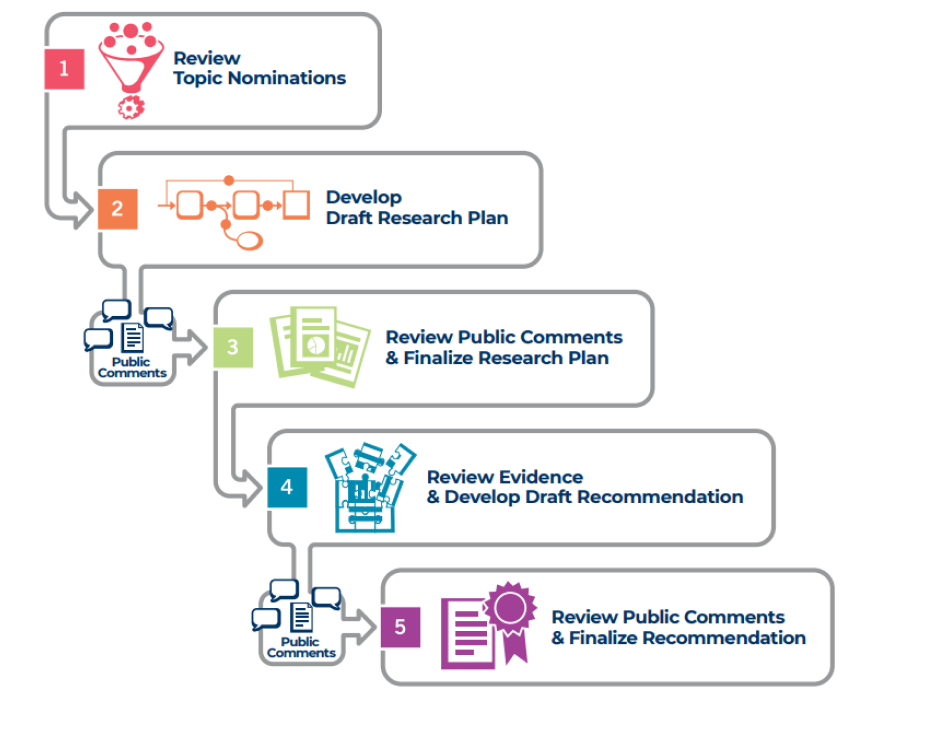 Download the USPSTF Recommendations Development Process: A Graphic Overview below for a full-sized graphic.
How We Get Input From Others
For each recommendation, the Task Force seeks input from expert reviewers, partners, stakeholders, and the public. We routinely seek outside input to ensure our processes are transparent and the best available science is reviewed. Each audience provides valuable feedback.
Collaborating with partner organizations help ensure that Task Force recommendations are relevant and useful to clinicians and patients.
Encouraging stakeholder organizations knowledgeable about certain topics and audiences to share their expertise by submitting public comments.
Engaging expert reviewers, who include experts on the topic and specialists to provide input on the prevention and treatment of specific diseases and conditions.
Providing opportunities for public comment so the public can weigh in on Task Force materials.