Tumaini Rucker Coker, M.D., M.B.A.
Member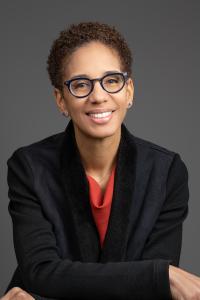 Dr. Coker, M.D., M.B.A., is division head of General Pediatrics and professor of pediatrics at the University of Washington School of Medicine and Seattle Children's. She is the former and founding research director for Seattle Children's Center for Diversity and Health Equity and currently serves as the co-director of the University of Washington's Child Health Equity Research Fellowship, which is funded by the National Institutes of Health.

Dr. Coker's research focuses on community-partnered pediatric primary care delivery design to promote health equity and eliminate health and healthcare disparities for Black and Hispanic/Latino children and families in low-resource communities. Her primary research is in partnership with community clinics and the parents they serve and has focused on the design, implementation, and testing of new models of care that integrate community health workers into the delivery of early childhood preventive care. Dr. Coker has also conducted research to elucidate inequities in behavioral health for Black and Hispanic/Latino children, focusing on delivery system interventions needed to improve access and utilization of care.

Dr. Coker's research has been funded by the Eunice Kennedy Shriver National Institute of Child Health and Human Development, the National Institute on Minority Health and Health Disparities, the Patient-Centered Outcomes Research Institute, and the Health Resources and Services Administration. Dr. Coker received AcademyHealth's Nemours Child Health Services Research Award in 2012 and served as a member of the expert panel for the fourth edition of the American Academy of Pediatrics' Bright Futures National Preventive Care Guidelines. She is currently the chair for the National Academies' Committee on the Long-Term Impact of the COVID-19 Pandemic on Children and Families.

Dr. Coker practices primary care and teaches medical students and residents at Seattle Children's Odessa Brown Children's Clinic. She earned her bachelor's degree in psychology at Stanford University, an M.B.A. at the University of California, Los Angeles (UCLA) Anderson School of Management, and her M.D. at the Drew/UCLA Medical Education Program at UCLA's David Geffen School of Medicine, where she was elected to the Alpha Omega Alpha Honor Medical Society. Dr. Coker completed her internship and residency in pediatrics at Cedars-Sinai Medical Center and a postdoctoral fellowship with the Robert Wood Johnson Foundation Clinical Scholars program at the University of Chicago. Before joining the faculty at the University of Washington School of Medicine, she was a faculty member in the Department of Pediatrics at UCLA for 10 years.

Dr. Coker joined the U.S. Preventive Services Task Force in January 2022.