Sandra Millon Underwood, R.N., Ph.D.
Member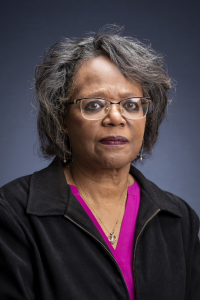 Sandra Millon Underwood, R.N., Ph.D., is a professor emerita in the College of Nursing at the University of Wisconsin-Milwaukee. She is a nurse researcher, educator, and clinician with 40 years of experience in the design, implementation, and evaluation of evidence-based programs that aim to foster diversity, inclusion, and health equity, and improve health outcomes among diverse, underserved, at-risk population groups. Her work reinforces the need to understand and apply principles and science relevant to health determinants and community-based research and practice.

Dr. Millon Underwood's research projects have addressed disparities in cancer education, cancer prevention, and cancer control among minority, economically challenged, and marginalized population groups within and beyond the contiguous United States. The National Cancer Institute, American Cancer Society, Sigma Theta Tau International, Wisconsin Genomics Institute, and Wisconsin Department of Health have funded this work.

Dr. Millon Underwood was appointed to the National Institutes of Health Council of Councils, National Cancer Advisory Board, and Advisory Council of the National Institute of Nursing Research. In addition, she has served on consensus conferences and scientific review panels convened to explore practices essential to health promotion and chronic disease prevention; the effectiveness of tools used in genetics, genomics, and personalized and precision medicine; and issues relevant to reducing health disparities and improving health equity.

Dr. Millon Underwood maintains an active community-based practice aimed toward addressing health concerns and needs among men, women, and children throughout the Midwest. She also teaches and mentors faculty, colleagues, and students committed to learning how to better engage in the work and more effectively serve the communities.

Dr. Millon Underwood earned her B.S.N. and M.S.N. in nursing from Loyola University College of Nursing and her Ph.D. in education and social policy from Northwestern University. She has received recognition for exemplary teaching, scholarship, and service with numerous awards, including from the American Academy of Nursing, National Black Nurses Association Institute of Excellence, Loyola University College of Nursing, and the University of Wisconsin-Milwaukee.

Dr. Millon Underwood joined the U.S. Preventive Services Task Force in January 2023.