Goutham Rao, M.D., FAHA
Member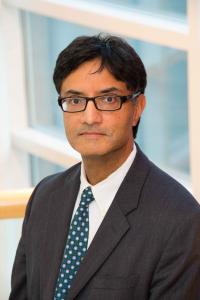 Goutham Rao, M.D., FAHA, is the chair of the Department of Family Medicine and Community Health, and chief clinician experience officer for the University Hospitals Health System. He practices family medicine and leads the medical obesity treatment program. He also serves as division chief of Family Medicine at UH Rainbow Babies & Children's Hospital. In addition, Dr. Rao is the Jack H. Medalie professor and chairman of the Department of Family Medicine and Community Health at Case Western Reserve University School of Medicine.

Dr. Rao's areas of expertise include the treatment of obesity and cardiovascular risk prevention, particularly in children and adolescents. He is a former chair of the American Heart Association's Obesity Committee and former clinical director of the Weight Management and Wellness Center at Children's Hospital of Pittsburgh. He also has expertise in clinical epidemiology and biostatistics, having directed mandatory courses in the field for medical students for 12 years at the University of Pittsburgh and the University of Chicago. Dr. Rao is the author of the popular textbook "Rational Medical Decision Making: A Case-Based Approach" (2007), which combines evidence-based medicine, biostatistics, and decision science in a unique clinical case-based format for healthcare professionals. Dr. Rao has a special interest in systematic reviews and meta-analyses and led the development of methodological standards for cardiovascular prevention and treatment meta-analyses for the American Heart Association, published in the journal Circulation in 2017. He is a member of the Society for Research Synthesis Methodology.

Dr. Rao is the author of more than 100 publications, including four books. He has received research funding from the National Institutes of Health, Patient-Centered Outcomes Research Institute, and the Agency for Healthcare Research and Quality (AHRQ). He was the principal investigator (PI) for the AHRQ-funded project, "Improving Diagnosis of Hypertension in Children." Through a separate AHRQ grant, Dr. Rao also conceived the concept of a "diagnostic path"—the series of decisions and events that take place from first presentation of a patient with undifferentiated illness to establishment of a diagnosis. Improving diagnosis through data-based and analytic approaches has been of significant interest to him. He is the PI and director of the newly established AHRQ-funded University Hospitals ADVANCE (Advancing Diagnosis through Validated Analytics and Novel Collaborations for Excellence) Center, whose mission is to identify and implement best practices for diagnostic evaluation of common but serious problems. Dr. Rao is also co-PI for the AHRQ-funded EMPOWER study at University Hospitals to improve diagnosis and management of urinary incontinence in women.

Dr. Rao earned his M.D. from the McGill University School of Medicine. He completed his residency in family medicine at the University of Toronto and fellowship training in faculty development and research methods at UPMC-St. Margaret Hospital in Pittsburgh, Pennsylvania, which is affiliated with the University of Pittsburgh.

Dr. Rao joined the U.S. Preventive Services Task Force in January 2023.