Carlos Roberto Jaén, M.D., Ph.D., M.S., FAAFP
Member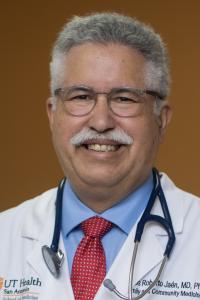 Dr. Jaén, M.D., Ph.D., M.S., FAAFP, is a professor and the Dr. and Mrs. James L. Holly distinguished chair in the Department of Family and Community Medicine at the Joe R. and Teresa Lozano Long School of Medicine at The University of Texas Health Science Center at San Antonio.

Dr. Jaén's special interests include improving preventive care for individuals of all ages and preventing complications from chronic diseases like diabetes, high blood pressure, and heart disease. He is passionate about building and studying high-performance primary care practices. Dr. Jaén was co-director of the American Academy of Family Physicians Center for Research in Family Medicine and Primary Care. For more than 15 years, the Center studied almost 500 community-based primary care practices and completed the evaluation of the American Academy of Family Physician's national demonstration project of the patient-centered medical home. Dr. Jaén has been selected to the Best Doctors in America yearly since 2002 and is dedicated to building a healthier San Antonio through efforts in community wellness.

Dr. Jaén served on the panels that published the U.S. Public Health Service smoking cessation guidelines in 1996 and 2000 and was co-chair of the panel that published an update in May 2008. In 2005, he was appointed to the National Advisory Council to the Agency for Healthcare Research and Quality. Dr. Jaén received a Generalist Physician Faculty Scholar Award from the Robert Wood Johnson Foundation and a Cancer Control Career Development Award for Primary Care Physicians from the American Cancer Society. He is the immediate past chair of the Board of Regents of the National Institutes of Health National Library of Medicine and former chair of the American Board of Family Medicine. Dr. Jaén was elected as a member of the National Academy of Medicine in 2013.

Dr. Jaén earned his bachelor's and master's degrees from Niagara University and his M.D. and Ph.D. in epidemiology and community health from the State University of New York at Buffalo. He completed a residency in family medicine and a fellowship in primary care research at Case Western Reserve University.

Dr. Jaén joined the U.S. Preventive Services Task Force in January 2022.