First Annual Report to Congress on High-Priority Evidence Gaps for Clinical Preventive Services - Figure 2
Stages in USPSTF Recommendation Development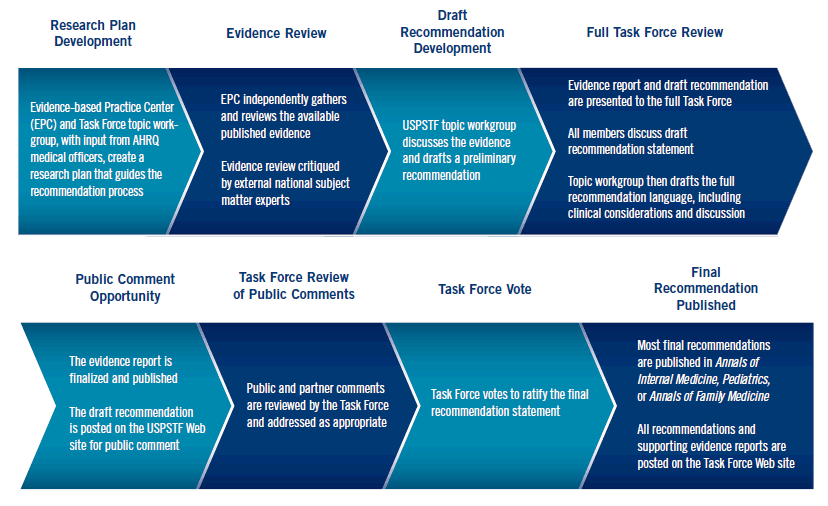 [D]. Select for Text Description.
Stages of Development chart. There are eight stages as follows:
Research Plan Development: Evidence-based Practice Center (EPC) and Task Force topic group, with input from AHRQ medical officers, create a research plan that guides the recommendation process.
Evidence Review: EPC independently gathers and reviews the available published evidence. Evidence review critiqued by external national subject matter experts.
Draft Recommendation Development: USPSTF topic workgroup discusses the evidence and drafts a preliminary recommendation.
Full Task Force Review: Evidence report and draft recommendation statement are presented to the Task Force. All members discuss draft recommendation statement. Topic workgroup then drafts the full recommendation language, including clinical considerations and discussion.
Public Comment Opportunity: The evidence report is finalized and published. The draft recommendation is posted on the USPSTF Web Site for public comment.
Task Force Review of Public Comments: Public and partner comments are reviewed by Task Force and addressed as appropriate.
Task Force Vote: Task Force votes to ratify the final recommendation statement.
Final Recommendation Published: Most final recommendations are published in either Annals of Internal Medicine, Pediatrics, or Annals of Family Medicine. All recommendations and supporting evidence reports are published on the Task Force Web site.
Current as of: December 2011
Internet Citation:
First Annual Report to Congress on High-Priority Evidence Gaps for Clinical Preventive Services - Figure 2
. U.S. Preventive Services Task Force. January 2014.
https://www.uspreventiveservicestaskforce.org/Page/Name/first-annual-report-to-congress-on-high-priority-evidence-gaps-for-clinical-preventive-services---figure-2