First Annual Report to Congress on High-Priority Evidence Gaps for Clinical Preventive Services - Figure 1
Complementary Work of the U.S. Preventive Services Task Force and the Community Preventive Services Task Force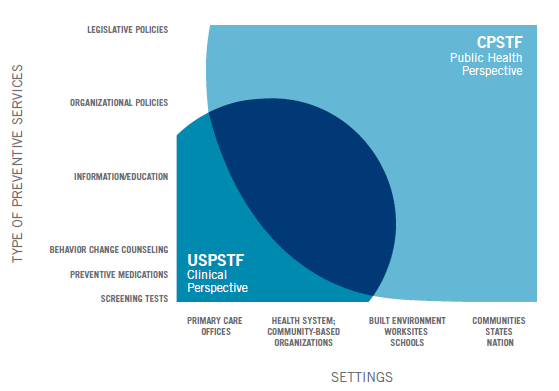 [D]. Select for Text Description.
Image of the CPSTF Public Health Perspective. The variables are as follows:
Types of Preventive Services:
Legislative Policies
Organizational Policies
Information/Education
Behavior Change Counseling
Preventive Medications
Screening Tests
Settings:
Primary Care Offices
Health System; Community-Based Organizations
Built Environment Worksites Schools
Communities State Nation
Current as of: December 2011
Internet Citation:
First Annual Report to Congress on High-Priority Evidence Gaps for Clinical Preventive Services - Figure 1
. U.S. Preventive Services Task Force. December 2013.
https://www.uspreventiveservicestaskforce.org/Page/Name/first-annual-report-to-congress-on-high-priority-evidence-gaps-for-clinical-preventive-services---figure-1