Gbenga Ogedegbe, M.D., M.P.H.
Member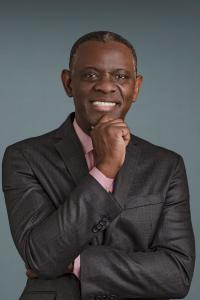 Gbenga Ogedegbe, M.D., M.P.H., is the founding director of the Institute for Excellence in Health Equity at New York University (NYU) Langone Health. He is the Dr. Adolph and Margaret Berger professor of medicine and population health at the NYU Grossman School of Medicine, where he serves as director of the Division of Health and Behavior in the Department of Population Health. Dr. Ogedegbe previously served as the founding vice dean of the NYU College of Global Public Health.

Dr. Ogedegbe is a leading expert on health disparities research and minority health, with a focus on implementation and translation of evidence-based interventions into primary care practices and community settings for management of hypertension and cardiovascular risk reduction in minority populations. He has led numerous National Institutes of Health (NIH) studies for hypertension control and stroke prevention in minority populations. Dr. Ogedegbe is funded by NIH to build research capacity in noncommunicable diseases and implement task-shifting strategies to improve cardiovascular disease outcomes in primary care practices in sub-Saharan Africa.

Dr. Ogedegbe is a member of the National Academy of Medicine, where he serves on the Board of Global Health. He also serves on the NIH Fogarty Center Advisory Board. In addition, he is a fellow of the American Heart Association, American Society of Hypertension, American College of Physicians, and the Academy of Behavioral Medicine.

Dr. Ogedegbe earned his M.D. in the Ukraine. He completed his residency training in internal medicine at Montefiore Medical Center and a fellowship in clinical epidemiology and health services research at Cornell University. He received his M.P.H. from Columbia University Mailman School of Public Health. Previously, Dr. Ogedegbe was a faculty member at Weill Cornell Medical College and Columbia University College of Physicians and Surgeons.

Dr. Ogedegbe joined the U.S. Preventive Services Task Force in January 2020.