Carol M. Mangione, M.D., M.S.P.H.
Chair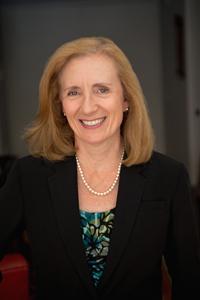 Carol M. Mangione, M.D., M.S.P.H., is the chief of the Division of General Internal Medicine and Health Services Research; holds the Barbara A. Levey, M.D., and Gerald S. Levey, M.D., endowed chair in medicine; and is a distinguished professor of medicine at the David Geffen School of Medicine at the University of California, Los Angeles (UCLA), and the executive vice chair for Health Equity and Health Services Research in the Department of Medicine. She is a distinguished professor of public health at the UCLA Fielding School of Public Health, and director of the UCLA Resource Center for Minority Aging Research/Center for Health Improvement of Minority Elderly. Dr. Mangione is director of the UCLA Clinical and Translational Science Institute Workforce Development Program. She is a practicing primary care clinician in the UCLA Faculty Practice Group.

Dr. Mangione's areas of expertise include diabetes, diabetes prevention, preventive care, health disparities, aging, public health, health insurance benefit design, and public health policy. She is a member of numerous professional societies and organizations, including the 2019 class of the National Academy of Medicine, the Association of American Physicians, the American Society of Clinical Investigation, the Society for General Internal Medicine, the American Geriatrics Society, AcademyHealth, the American Diabetes Association, and the American College of Physicians. She is also a member of the board of governors for the Pardee RAND Graduate School.

Dr. Mangione was the principal investigator for "The Diabetes Health Plan: A System-Level Intervention to Prevent and Treat Diabetes," funded by the Centers for Disease Control and Prevention (CDC) and the National Institute of Diabetes and Digestive and Kidney Diseases (NIDDK) to evaluate the effectiveness of the first disease-specific health plan in the United States. Dr. Mangione is the director of the "UCMyRx Medication Therapy Management Program," which embeds clinical pharmacists in primary care practices to enhance communication, educate, and improve medication adherence for patients with inadequate control of cardiovascular risk factors and for older adults with polypharmacy. She was a multiple-principal investigator of a grant from NIDDK, "A Cluster-Randomized Trial of Pharmacist-Coordinated Implementation of the Diabetes Prevention Program," which evaluates a primary care–based program that uses a shared decision making tool to help patients with prediabetes learn about the condition and make treatment choices that will reduce their chance of developing diabetes, and is currently a multiple-principal investigator of a grant from the Patient-Centered Outcomes Research Institute, "Using Personalized Risk/Benefit Profiles in SDM for Diabetes Prevention." Dr. Mangione also is the principal investigator for a CDC and NIDDK funded project entitled, "A Pragmatic Nationwide RCT of Coordinated Medical, Behavioral, and Social Services to Improve Care and Utilization among High-Cost, High-Need Insured Patients With Diabetes," which is evaluating a health plan–level innovation designed to improve the care of some of the most medically complex patients with chronic conditions.

Dr. Mangione is the recipient of the 2018 Society of General Internal Medicine John M. Eisenberg National Award for Career Achievement in Research and was recognized with the UCLA Exceptional Physician Award in 2013 and the Society of General Internal Medicine Mid-Career Mentorship Award in 2005. She has co-authored more than 340 peer-reviewed articles and seven book chapters.

Dr. Mangione received her B.S. from the University of Michigan, Ann Arbor. She earned her M.D. at the University of California, San Francisco, and completed her residency at University of California Affiliated Hospitals. Dr. Mangione earned her M.S.P.H. from the Harvard School of Public Health and has completed fellowships at Harvard Medical School.

Dr. Mangione was appointed as chair of the U.S. Preventive Services Task Force in March 2022. She previously served as vice chair from January 2020 to February 2022 and as a member from January 2016 through December 2019.